In this newsletter we're highlighting downtime, maintenance and repair costs as it relates to lighting install and servicing in Industrial type environments.
By and large, most lighting retrofits are based on installing a 'comparable' LED light to replace their existing traditional 1000W or 400W Metal Halide or Sodium fixture, without much thought to the cost of replacement beyond the cost of the fixture. Many of our customers have to schedule the light replacement(s) when that equipment or peripheral equipment, or other operational pieces are down, as an abundance of caution or other safety provision. Many times, lifts or cranes are involved to make the requisite light change-outs, which are expensive and often cut into production time.
When evaluating lighting replacements or installs we take a lighting plan approach to the installation; just some of the main factors considered are downtime/ scheduling issues, ease of installation and wiring, mounting considerations, and illumination levels and light distribution. See Granite picture below:

Downtime or Maintenance activity is often more expensive than the light fixtures.
Safety is always affected when light fixtures are not working as they should.
If a lighting plan is conducted correctly the first time, companies can forego additional install or replacement costs in the future, and/ or dramatically reduce the time and resources needed to do so.

Titan 540 Installed in Granite Construction - Smith Island
In our last newsletter we highlighted an example of our Area lighting approach to Industrial facilities using our Titan 540 fixture. Here we did the same at Granite Construction and had permission to get some aerial photos to demonstrate the affect. Our effort is to remove discomfort glare by using higher powered fixtures at higher heights with a wider beam patterns. To remove or dramatically reduce direct luminance improves the loader operators visibility and overall operational safety. Also, with this fixture operating off of a 120V circuit, it makes for an easy connection without having to run additional fuel gulping light towers, saving the customer money in fuel and refueling time.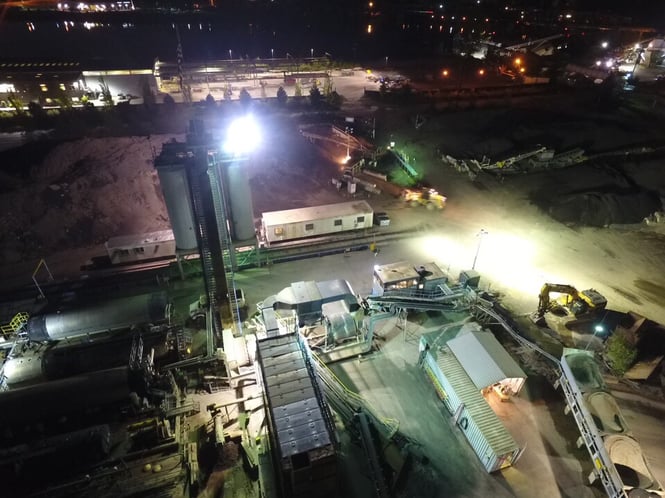 Juggernaut - Next evolution of Power
The Juggernaut is our newest and currently our most powerful fixture, and is quickly becoming a go-to Industrial luminaire. With a whopping 1.1KW and an optional 1.3KW fixture, it gives our customers greater advantages and options across poorly lit Industrial yards and/or for higher mounting heights. More power and more light translates to lower purchase cost because fewer fixtures are needed, lower installation costs due to fewer lights to mount, and less time in installation and maintenence. The moto of this fixture is: "Do more with less!" Click here to view the product details!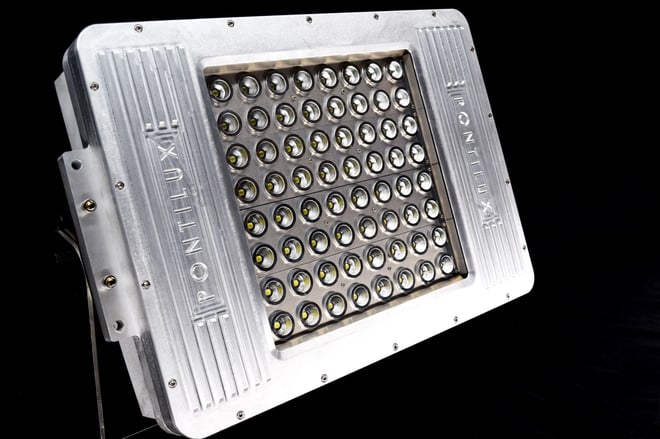 Colossus Installed on F/V Arctic Ram
Tident Seafoods is one of the most recent adopters of the high-powered Colossus fixture. Pictured below, you can see that one of the 750W fixtures (in Warm White - Sodium replacement) has been installed center mast directly above the wheel house. Two more 20°, 2700K, Colossus units are currently being installed to complete the mission of making the F/V Arctic Ram one of the brightest boats in the Pacific. Click here to learn more about the Colossus and its versatility.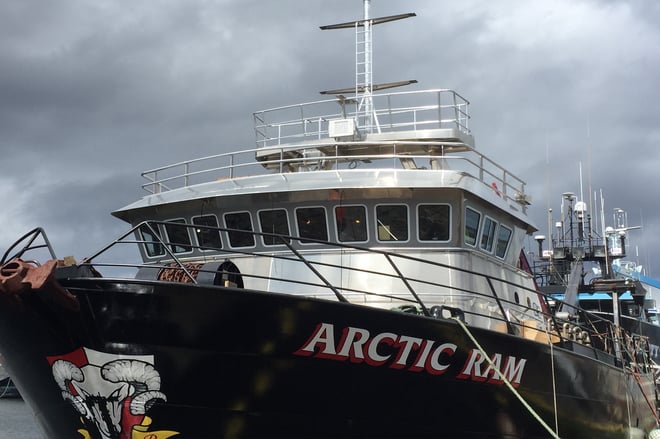 Titan 540 Installed on F/V
The F/V Pacific Mariner is one of the latest to replace their old 1,000W HPS mast lights with the Titan 540 LED Mast Light Replacement. This fixture has become a staple of the commercial fishing industry and it is quickly becoming the go-to mast light replacement. The Titan 540 has been operating throughout Alaska and the Bering Sea for over 18 months for half a dozen companies with ZERO reported failures. That means none of the fixtures have failed, no replacements were made, no time was lost in installation and repairs. That is an unprecedented level of reliability! Please contact Jeremy or Paul at PFI Marine for more information. Click here to learn more about the Titan 540, and see how this fixture outperforms the rest.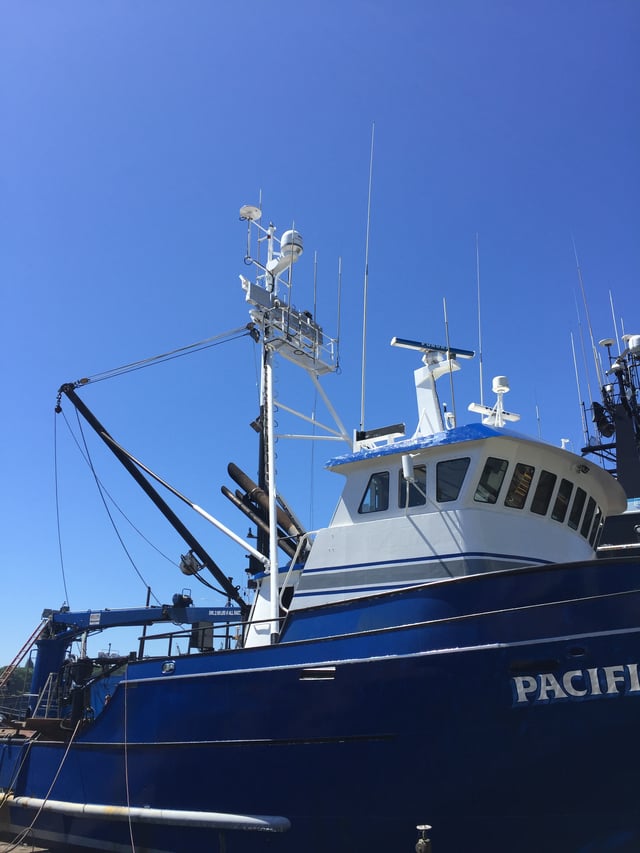 PX64: New Beam Pattern - 70°
The PX64 has been a long-standing favorite of both the Marine and Industrial markets. It has outperformed all LED fixtures in the 300W class, and has developed a reputation for its reliability. Since the beginning, the PX64 has come with three beam pattern options: 20°, 45°, and 120° beam patterns. Our newest 70° beam pattern provides an optimal option for area lighting. Click here to learn more about the PX64 with a 70° beam pattern.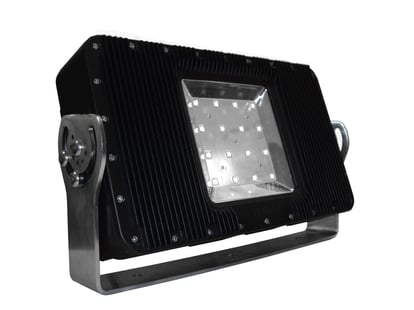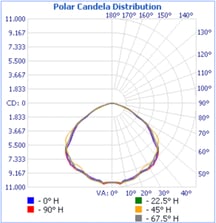 Larger, Stronger Brackets - Slip Fitter
Engineering the Colossus and Juggernaut fixtures was no small feat. One of the challenges in designing large and powerful Industrial luminaires is developing bracket options to work across more installations. More power and light translates to larger size and more weight to handle the thermal conductivity. Our new slip fitter bracket is specially designed beyond a standard pole mount application. We've built this slip fitter, with customer feedback, to withstand heavy forces and vibration.



New Brochures!
In order to better support our customer base, we have customized our brochures for both our Industrial and Marine customers. All of the same fixtures, but articulated within the different applications and environments unique to both segments. Click down below to download your free copy.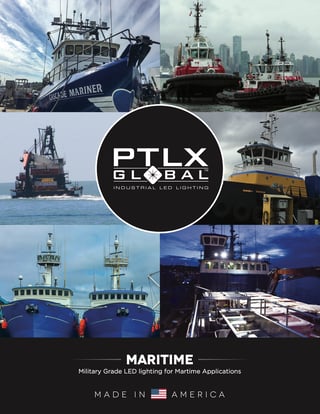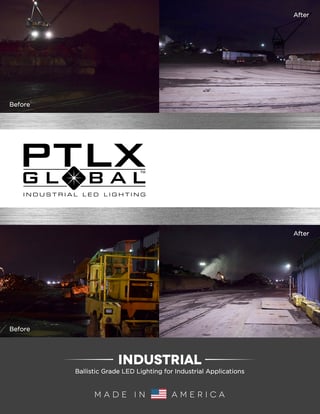 As always, feel free to reach out to us at any time. Reply by email, come to our website, or connect on one of our social media channels.
Best Regards,


Erron Boes | President | erron@ptlxglobal.com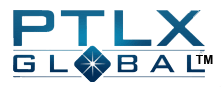 PTLX Global, LLC 22722 29th Dr SE #100 Bothell, WA 98201

You received this email because you are subscribed to Marketing Information from PTLX Global, LLC.

Update your email preferences to choose the types of emails you receive.

Unsubscribe from all future emails
Published
Jun 1, 2017 2:40:00 PM